Introduction of universal pulverizer, stainless steel pulverizer
29-10-2022
Stainless steel crusher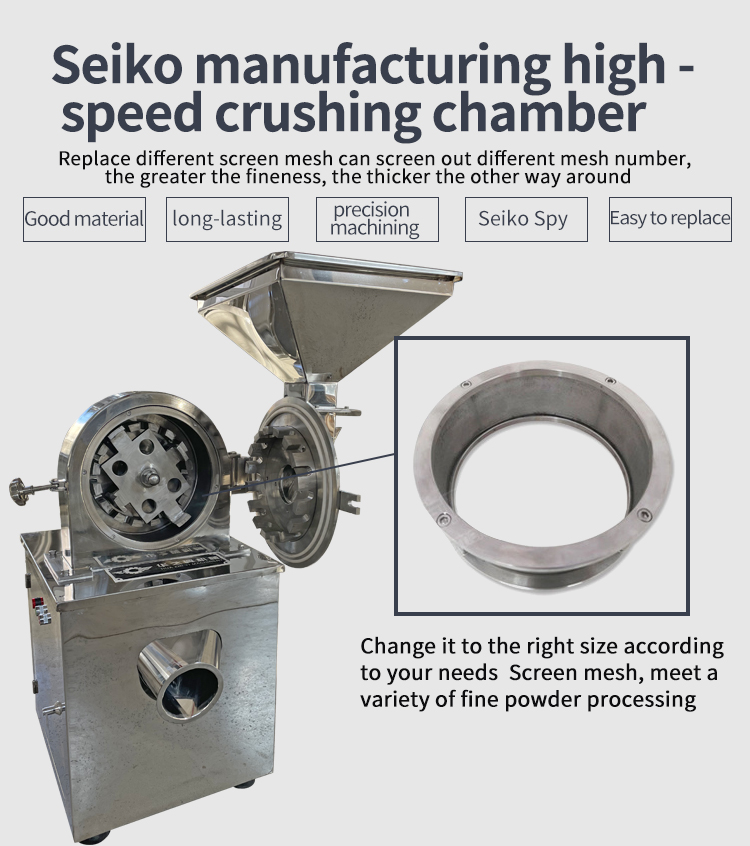 Also known as stainless steel pulverizer, high-efficiency pulverizer, food pulverizer, hammer pulverizer, multi-function pulverizer, chemical pulverizer, preparation pulverizer, it is developed according to the technology of similar products in Japan, Germany and the United States. The universal pulverizer has a simple structure, firmness, stable operation, easy cleaning and good pulverizing effect. The pulverized material can be directly discharged from the grinding chamber of the main machine, and the particle size can be obtained by replacing the mesh screens with different apertures. . The inner wall of the universal pulverizer is all machined to achieve a smooth surface, which changes the phenomenon of rough inner wall and powder accumulation of the previous model, and makes the production of medicine, food, chemical industry and other products more in line with national standards and meet the requirements of GMP. Universal grinder is a practical model commonly used in pharmaceutical factories, food factories, chemical factories, hospital preparation rooms, clinics, outpatient departments, research institutes, health care products factories, building materials factories, feed factories and other units. The machine is simple and strong in structure, stable in operation and good in crushing efficiency. The crushed material can be directly discharged from the grinding chamber of the main machine. The particle size can be obtained by replacing mesh screens with different apertures. In addition, the 30B type is all stainless steel. The inner wall of the casing is all machined to achieve a smooth and smooth surface without powder accumulation. Make the production of medicines, food, chemicals, etc. more in line with national standards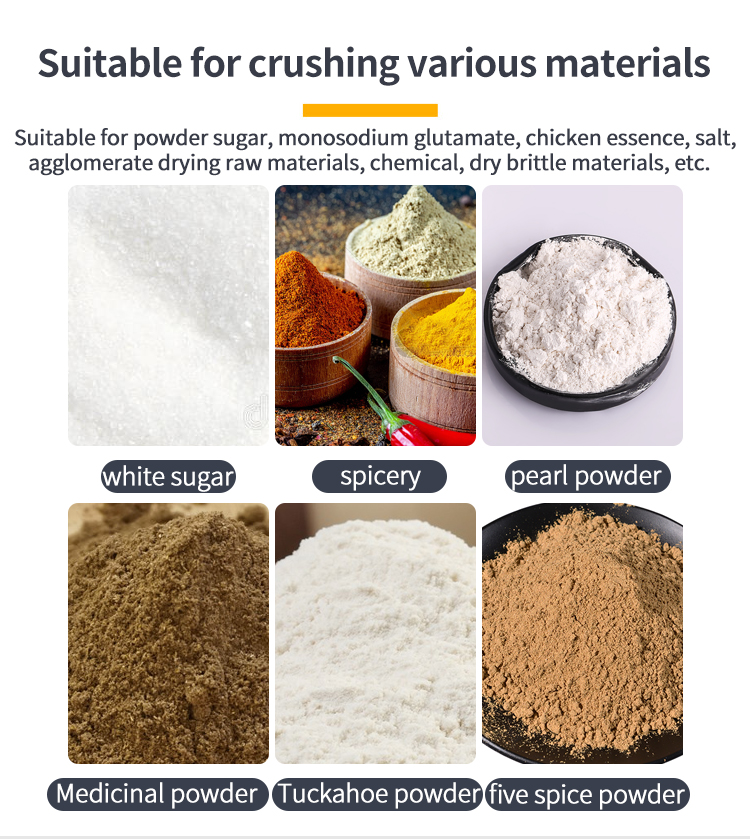 Main features:
The wind wheel type high-speed rotary knife is adopted, and the air volume in the machine cavity is large, so the machine cavity is not easy to heat. The utility model has the advantages of stable operation, convenient disassembly and cleaning, low noise, good crushing effect, etc. It is especially suitable for crushing traditional Chinese medicine extracts such as traditional Chinese medicine extracts.
This series of high-speed stainless steel crushing units are compact in structure and stable in operation. The unit is designed according to the "GMP" standard, which can ensure the cleanliness of crushed materials, avoid dust flying in the production process, improve the utilization rate of materials and reduce enterprise costs.
Application:
1. Food industry can crush spices and condiments: salt, white sugar, star anise, cinnamon, pepper, red pepper, ginger, turmeric, garlic, Chinese prickly ash, mustard, cardamom, kaempferi, shrimp powder, ribs powder, beef powder, chicken powder, squid powder, steak powder
2. The food industry can produce cereals powder nutritional powder: soybeans, mung beans, red beans, corn, black beans, black tartary buckwheat, red dates, peanuts, sesame, walnuts, coffee beans, cocoa beans, chocolate beans, sweet potatoes, yams, oats, barley
3. The food industry can produce fruit and vegetable powder: hawthorn powder, coconut powder, apple powder, durian powder, mango powder, banana powder, tomato powder, spinach powder, sweet potato powder, yam powder, pumpkin powder, potato powder, purple potato powder, onion powder, tea powder, strawberry powder, lemon powder, fungus powder, mushroom powder
4. The pharmaceutical industry can produce: rhubarb powder, spicy wood leaves, kudzu root powder, reed root powder, cauliflower, elderberry, polyoxyethylene, polydiethanol, herbal medicine, licorice, panax notoginseng, ginseng, ganoderma lucidum, polygonum multiflorum,
5. The chemical industry can be used to produce cosmetics powder, paint powder, chemical additives, preservatives, colorants, bulking agents, oxidants, polymer crystals, zinc oxide, rosin powder, water absorbing resin, smoldering agent, cleaning agent, and polymeric alumina
6. It can be used in the production and development of marine feed, pet feed, animal feed, etc.
This machine can crush materials with a fineness of 120 mesh or less. Materials with different properties can be treated specially. Different configurations are added.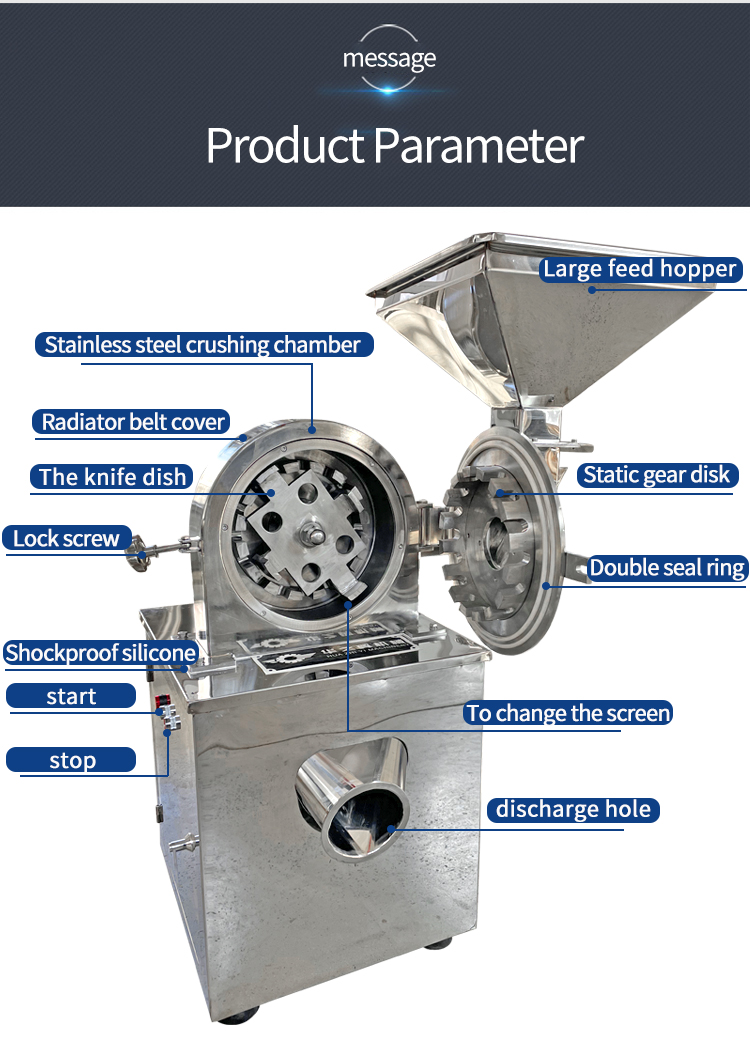 Product principle and structure
This machine uses the high-speed movement between movable gear discs and fixed gear discs to break broken materials through the impact of gear discs, friction and collision between materials.
The crushed materials can be directly discharged from the grinding chamber and discharged through the discharge port. Common materials will be collected through cotton bags after crushing. The crushed materials will be collected in the bag, and the air will be discharged from the small holes of the bag, so that the fine powder will not be discharged, so as to achieve the effect of no waste and no pollution. The particle size is determined by changing the screen mesh with different mesh sizes.